BAZINGA!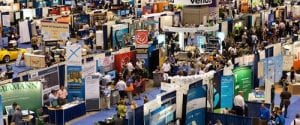 A headline joke to get your attention but believe us, pranks have no place when you're planning and budgeting for next year's trade shows and new product launches. Especially if you're participating in the Winter or Spring  trade show roster – which includes CES in January, HIMSS in February, SXSW in March and many others, for a full list check out Business Wire.
We believe it's never too early to be ready to showcase your best  when you are  face-to-face on the trade show floor or unveiling  a new product, so now's the time to start thinking Winter, Spring (and beyond).
Whether a demo is the be-all end-all support system for your most important product launch or the visual backbone of your marketing campaign, consider applying your remaining 2013 budget towards video to ensure that everyone from trade show attendees to your most loyal customers literally see what a great start you're off to in 2014.
And speaking of the New Year, if you have multiple product launches lined up and already in the midst of strategic planning, now is the time to talk to our team of video experts. Our team can guide you through the process and work with you to ensure that large scale demo projects don't become marketing budget busters. In fact, when you leverage an Autodemo on your website, your social networks, in sales meetings and at trade shows, the ROI will take your budgets to all new heights in 2014