Mike Stelzner and Social Media Examiner have once again published their Annual Social Media Marketing Industry Report. This year the report is based on a survey of over 2,800 marketers and it has been packaged into a 50-page report that is both full of insight and easy to read. This years report covers everything you would want to know in regards to the state of social media marketing and in case you don't have time to read the entire report, below we have outlined our three key takeaways:
1. Content Is Still King
The #1 tactic marketers said they want to do more of this year was blog. That's right blogging is indeed not dead as for the first time since 2010 blogging takes the top spot with 68% of respondents saying they plan to increase their use of blogging. With Google's algorithm updates putting such an emphasis on quality content this shift definitely makes sense and so we should expect to see a large increase in blogging original written content, especially within the B2B sector where 74% are more likely to increase blogging than compared to 63% of their B2C counterparts.
Respondents further backed up that content is KING when they were asked what the most important content is and you can see that breakdown below: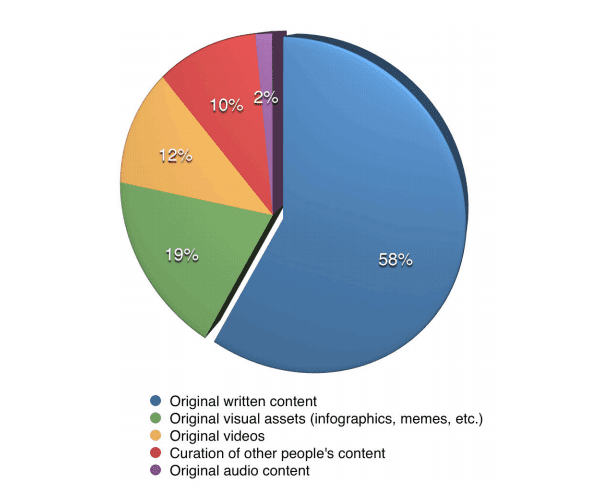 2.  The Future of Video Marketing is BRIGHT!
All the research from this years survey seems to point to even more companies beginning to leverage YouTube and their original video content in the coming months. We have all heard the statistic that over 100 hours of video is uploaded to YouTube every minute. Most people might immediately think most of those hours are crazy cat videos or viral sensations like Gangnam Style which soon will pass the 2 Billion view mark, but YouTube is in fact way more than a time suck. YouTube is a great channel to engage your customers from multiple angles such as taking advantage of YouTube advertising or using the platform to deliver your product or technology video to an engaged audience across all new media channels.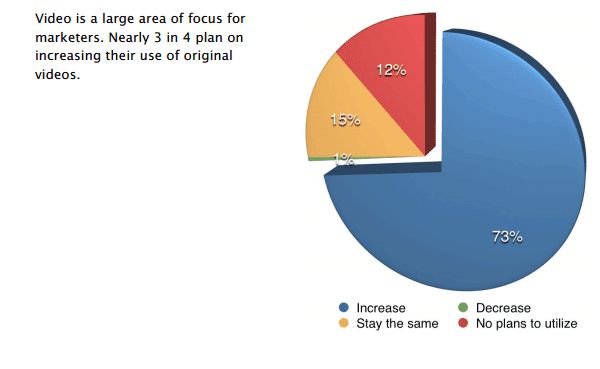 3.  Benefits of Social Media
In this years survey respondents overwhelmingly showed that social media has numerous benefits as we see marked increases in every category across the board. The two biggest benefits of social media according to those surveyed are increased exposure (92%) and increased website traffic (80%). What is surprising in this report is the time marketers are dedicating to social media and when they begin to see the benefits of their participation. According to the survey 64% of respondents are using social media for 6 hours or more each week, and report benefits like increases in exposure, traffic, loyal fans, leads, and organic rankings. However, probably the most surprising piece of this is that it's not until marketers are spending significant amounts of time (between 6-40 hours per week) for at least 1-3 years that they see gains in partnership development and increased sales tied to their social media activity.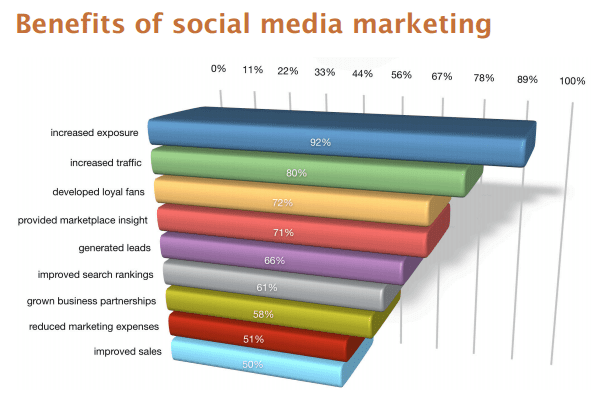 This is definitely only the tip of the iceberg in terms of insights that can be gleaned from this report so I highly recommend grabbing your own copy of it from Social Media Examiner.  If you, like 60% of survey respondents, want to learn more about producing original videos contact us today; one of our experts would be happy to speak with you!