When we starting planning this demo video for Tessitura Network, helping this tech company speak to an old-school industry was one of our most important considerations. Tessitura's solution enables arts and culture businesses to harness the power of customer data in order to make better decisions, faster. This demo video shows the ease and user-friendliness of a platform that puts a new data-driven culture within reach.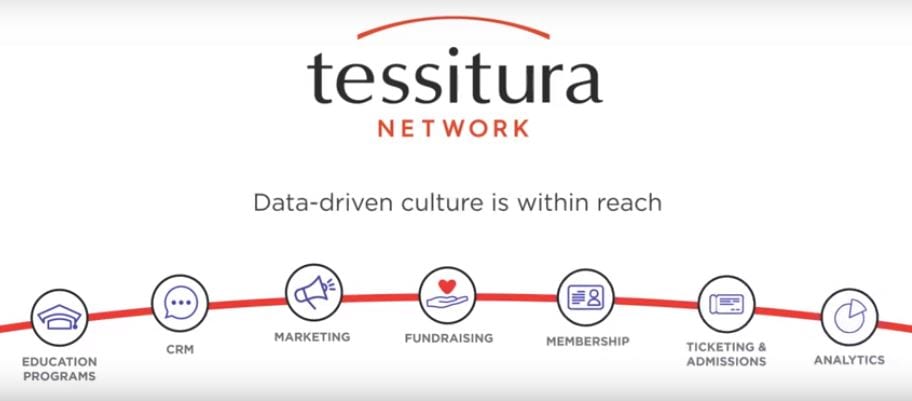 An Innovative Solution to a Familiar Problem
The first 35 seconds of this demo video identify a common problem plaguing not only arts and culture businesses, but plenty of other industries as well: Data overwhelm. Decision makers are drowning in data and struggling to transform information into action. It's no surprise, then, that data analytics is having a moment right now. Still, we wanted to drive home that this is something bigger than a buzzword. Since Tessitura is tailor-made for the arts and cultural sector, they needed a demo that answered the question: What does data analytics actually mean within a performing arts organization that needs to reach its target market more efficiently?
Highlighting How Data Closes the Gap
Tessitura bridges the gap between data and decision-making with their innovative, next-generation analytics platform: Tessitura Analytics. Like many of our demos, we framed this video around showcasing Tessitura's real-world value. While the data may be specific, this industry solution was built with the big picture in mind. Tessitura addresses all aspects of the field, including:
Ticketing
Fundraising
Marketing
CRM
A key element of this demo video for a data-driven solution was to clarify how cutting-edge enterprise technology can benefit an established industry.
Once we validated the market need for the platform, we started with a review of the interactive dashboard. Here, we wanted to highlight the way this solution is intuitive, streamlined, and easy to use. In addition, the dashboard montage we put together engages many different stakeholders within the arts and culture industry. From there, we showed actual examples of the platform in action. The end result was a demo video for a data-driven solution. We do all of this with strict attention to the company's brand and a focus on the mission-critical aspects of the sector.
Tessitura Network powers the success of arts and cultural organizations around the globe with a unified platform for organizational success. This includes ticketing and admissions, fundraising, memberships, marketing, business insights, education, online, mobile, and more. This means deeper audience engagement, increased revenue, and more time devoted to the business of arts and culture.
Autodemo offers strategic, creative explainer and demo videos for clients across industries. Interested in an explainer video or a demo video for a data-driven solution? Talk with our team today.