Bottomline Technologies wanted a fintech demo video that showed B2B prospects the ease of their solution. To achieve this, we used engaging design elements to create an appealing video for banks in need of a streamlined and competitive account-opening experience for their customers.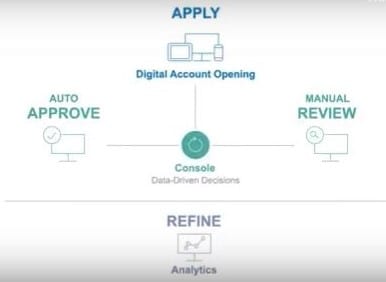 Capturing Viewers' Attention
This fintech demo video opens with a few seconds of live stock video as the voiceover begins. Right from the start, a bird's-eye perspective of a familiar coffee shop setting draws in viewers. Subsequently, the intro works in various digital channels that bank customers typically use to open new accounts. This makes it clear that Bottomline Technologies can assist banks in accommodating a variety of customers and businesses.
We also paired a young, hip voiceover character with clean design featuring large, colorful icons. As a result, we achieved an inviting demo video that clocks in at just over two-and-a-half minutes.
Creating an Intuitive Viewer Experience
The ease of Bottomline Technologies' solution is articulated through large zooms and highlights that make the video easy to view and follow—including on a mobile device. In addition, catchy electro music enhances the viewing experience without competing with the voiceover, which adds to the video's overall flow.
After guiding viewers through a streamlined customer-side interface, the demo focuses on specific product functionality for financial decision makers. For instance, we included elements like an intuitive review process and analytics dashboard for ongoing optimization.
Bottomline Technologies helps companies make complex business payments simple, smart, and secure. Their innovative solutions simplify and streamline payment processes, dramatically improve cash management, and help businesses rapidly gain full control over payments.
Autodemo offers strategic, creative explainer and demo videos for clients across industries. What's next for you? Are you interested in crafting your own fintech demo video or another video solution? Get in touch.