Today's savvy B2B marketers know that good content – especially video – is what pulls prospects through the pipeline to a purchasing decision and beyond. Having the right content in front of the right prospect at the right time is critical to marketing success. But the requirements of current marketing strategies don't happen by accident or just because you've purchased a marketing automation solution, they take thoughtful planning and smart decision-making.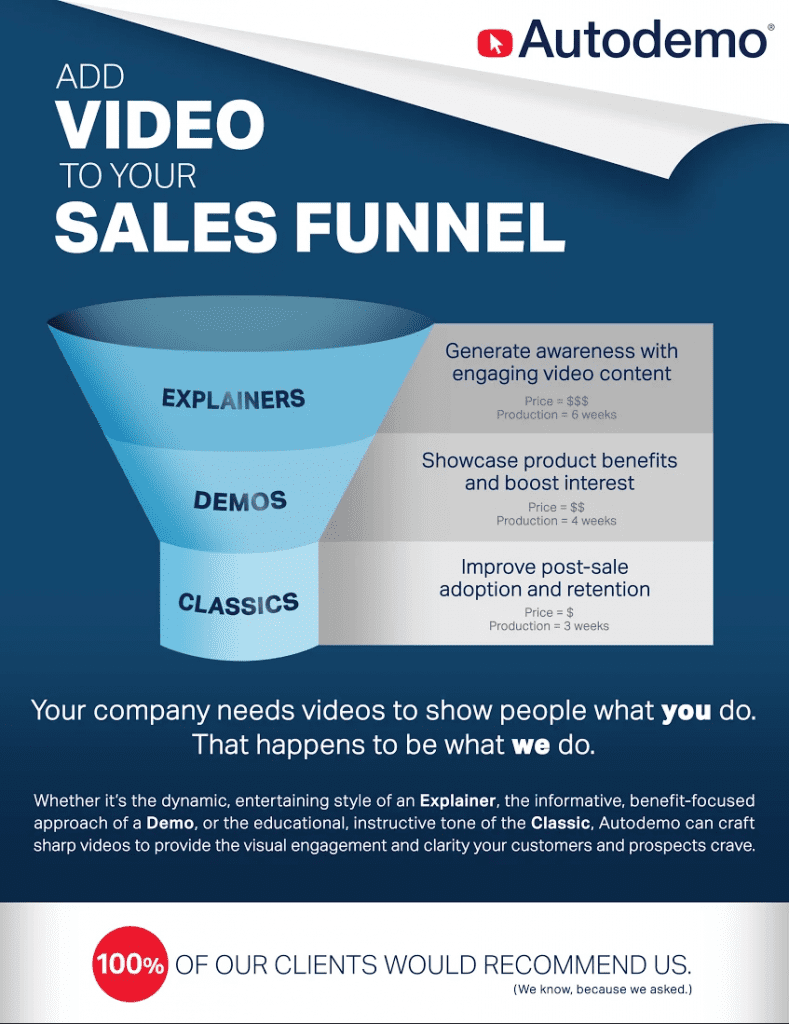 Explainer Videos
An explainer video generates awareness with engaging video content at the top of your sales funnel. Explainer videos tell a compelling story about how your solution addresses the real-world problem your prospect needs to address. It's the critical first impression or connection that causes your prospect to dedicate their precious time to seek more information. If produced correctly, the explainer honors the prospect's trust by communicating clearly and quickly articulating how the solution addresses the prospects problem. See examples here.
Demo Videos
A demo video showcases product features and benefits and facilitates your customer's path to purchase. After you have engaged a prospect with an effective explainer video, it's time to prove that your solution has what it takes to address their needs. Demo videos bring your product to life with embellished product functionality and brand-appropriate music. When it comes to showcasing your solution in the most favorable light, Autodemo has the scriptwriters, producers and developers to deliver. In fact, Autodemo has created effective product-centric demo content for more than 17 years. See examples here.
Classic Demos
A classic video improves post-sale adoption and customer retention. Perfect for integrating within your online solution and/or in a "Getting Started" email, classic videos get users up to speed in a hurry. From overcoming hurdles to adoption, so promoting underutilized product features, classic demos are a strategic education tool that makes a big impact. Want to reduce customer service calls, allow Autodemo to craft the perfect classic video to teach users to help themselves. See examples here.
If you want to optimize your sales funnel, then ask Autodemo to help you get the right videos to the right people at the right time. You won't believe the results.
Have questions about pricing or process, Contact Us today! Call 502.581.1300.