Explainer videos tell a compelling story about how your solution addresses the needs of your buyer. With entertaining music and dynamic motion graphics, explainers generate awareness and leads at the top of the sales funnel. In Part I of our "How to Create an Explainer Video" series we will cover some of the basics for starting a successful explainer video project.
Start with the End in Mind
Great explainer videos engage prospects and whet their appetites at the top of the sales funnel, but what do you want them to do when the video is over? Whether it's to sign up for a webinar, contact your sales team, or make a purchase, the explainer's content should be crafted to cause some meaningful action.
What's the Problem?
You have seven seconds to make a compelling connection with your viewer, so don't waste any of them. Get right to the heart of the issue, or in this case, your prospect's problem. Whether it's about network security, hiring talented employees or managing their email inbox, it's critical that the video makes an immediate emotional connection with the audience by clearly articulating the problem.
Explainer Video – Anyware for Salesforce
Time to Shine
After establishing the problem and "setting the hook", it's time for your solution to shine. Entice your prospect by helping them understand the value your solution provides.. Will they make more money? Will they have more free time? Do they become employee of the month? Paint a picture that captures their imagination and compels them to action.
Write the Perfect Script
Here is where things can get challenging. Take everything we just told you above, and write a compelling story in 2 minutes or less. The tone should be conversational and friendly, so it connects with the viewer and starts a genuine relationship at the beginning of their "customer journey". Shop your first draft around with co-workers to be sure the content is both engaging and easy-to-understand. The last thing you want to do is talk down to your audience or over their heads. Don't forget to do a word count. Your voiceover should be around 135 words for every minute of explainer video you're going to create.
Storyboard the Visuals
Once you have a near-perfect voiceover script, it's time to make the storyboard. The storyboard communicates how the visual elements will tie together with the voiceover. If done well, the storyboard should help all the stakeholders come together and agree on the video content.
Depending upon your project requirements, the storyboard may contain varying levels of detail. If you need to move fast and you have an agreeable group of stakeholders, storyboards can be very rough, hand drawn illustrations (See example below) just to keep everyone on the same page. If the concepts are more complex or your decision-making process is time-consuming, you should probably include more details. Regardless of which method you choose, be sure your storyboard incorporates a few style frames to demonstrate the look and feel of the finished video.
Click to enlarge: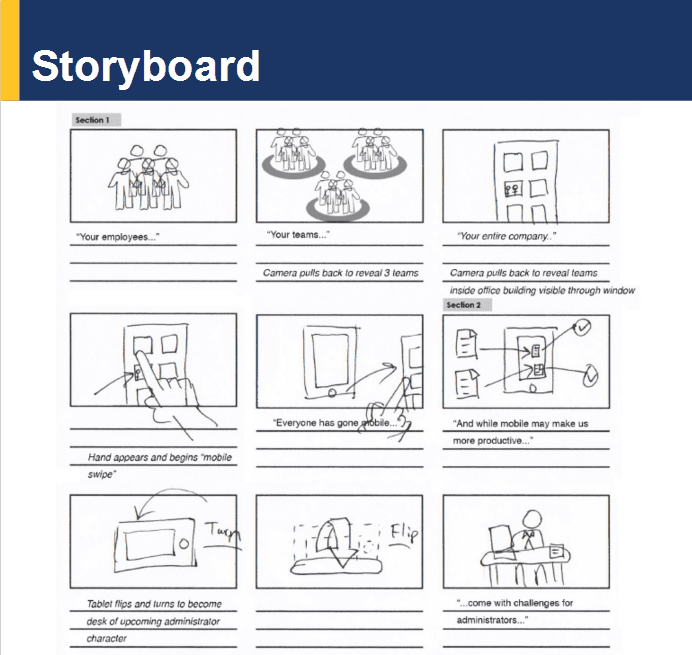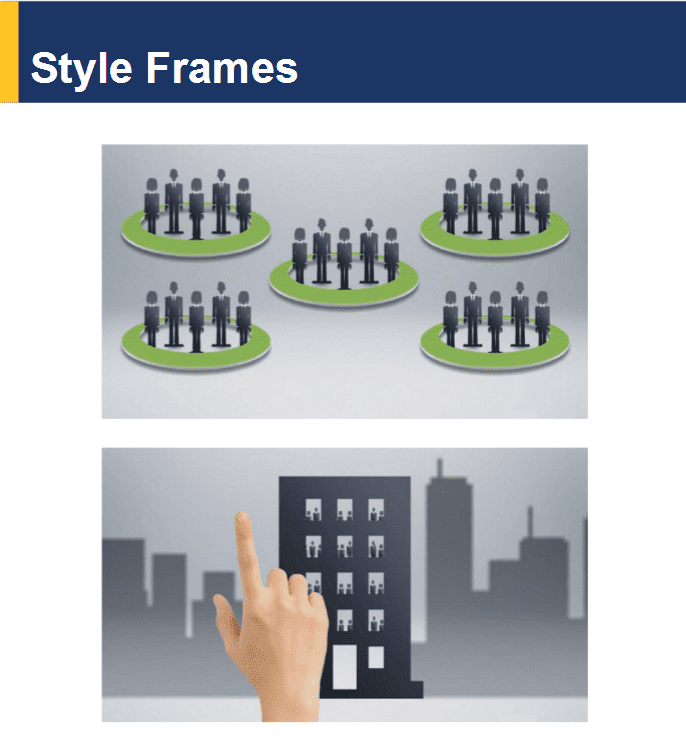 To be continued…
Coming Soon:
How to Create an Explainer Video, Part II
Topics:
Motion Graphics Development
Professional Audio Recording
Final Production and approval
Social Media Posting Success