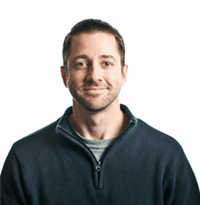 Video Producer Tim Williams has been a cornerstone of our creative team for 10 years. Get to know more about Tim's journey to from Chicago to Louisville and how his unique professional experience, including running his own company, culminated in him wearing the producer hat here with us.
Tell us about your professional history before joining the Autodemo Team. What brought you here to the role of producer?
​Tim Williams: This is my tenth year at Autodemo. Mid-August was 10 ​years exactly. Prior to that I was running my own business as an editor and videographer, handling all types of community and corporate events, training videos, promotional campaigns—a wide range of things. It was a great way to combine my creative and technical skills with my interests in storytelling and helping people, by helping people tell their story.
In the years before I started building my business, I worked at Accenture, a consulting firm in Chicago, as a process consultant writing and testing code on site for a large client. Later I worked as an instructional designer at their training headquarters outside of Chicago, writing and developing technical training courses for the classroom. During this period, I also volunteered a lot of time on evenings and weekends helping some local organizations with their video editing needs (in the late 90s desktop video editing was in its infancy, so they needed a lot of help with both the creative and the tech). Over the years and in these different roles I got used to working long hours. But once my first child was born, it became apparent very quickly that I needed to adjust my schedule. This is what prompted me to leave behind the editing and focus on becoming a producer, which ultimately led me to Autodemo.

What inspired your move to Louisville?
​TW​: My family moved to Louisville just a few months before I started working at Autodemo. We'd visited the area many times because my brother married a Louisville native, so we'd come down for the holidays. My parents (who were also in Chicago for a long time) decided they wanted to be near the grandkids and moved down here. After starting our own family, we decided to follow. Now we have a lot of family living near each other here in Louisville. I found Autodemo when we got here.
What do you enjoy the most about the process of creating videos for clients?
​TW: I really like the challenge of learning how our clients' complex products work, along with brainstorming and finding creative ways to visualize concepts that fit in a two-minute (or less!) package. Even more than that, I like getting to communicate directly with clients. There are clients I know really well even though we've never met face to face. In some cases we've talked cumulatively for many hours over the years. Through this we establish a familiar routine for tackling tough projects quickly because we each know how the other works. Building those relationships and that trust is the most rewarding part of my job—and though it's not technical or artistic, it is a critical part of the video development process.
In your ten-year tenure with Autodemo, name one of your favorite projects?
​TW: ​I enjoy elements of every project I work on, but in general I find our work with Red Hat to be pretty fascinating. Their videos can be some of the most challenging but also the most rewarding. Red Hat products involve complex technical elements, yet because we partner closely with their creative teams, they trust us to experiment with inventing new ways to explain those concepts within their brand guidelines. The projects often involve more time with the artists refining concepts and pushing ourselves to come up with fresh ideas. Of course these brainstorming meetings can get silly too (there are no bad ideas, right?) which makes it more fun overall.
[Embed video sample(s) here.]
When you aren't at Autodemo giving clients a phenomenal video development experience, what are you usually doing?
​TW: I like to stay busy and keep learning or helping at all times. I've coached little league (5-6 year olds) for the past 5 years.
I'm also a big movie fan—that's where I escape. I don't mind watching a movie on my own at the theater. The stories always spark my imagination and get me to reflect on things. I'll often read movie reviews when I need to take a break or have a few minutes to spare.
I also read a lot about current events and world history. I'm fascinated by different cultures and I like to view things from multiple perspectives. I think this line of study is important and helpful for building strong relationships with people. As you've heard… "seek first to understand."
I like playing sports more than watching. I played all sports growing up—mainly baseball, soccer, hockey, and even racquetball. As an adult it's mostly softball (when I can). Sometimes I think about running.
​Lastly, I completed a nine-month community leadership program where we got to see the inner workings of the county, including all of the government functions, etc. I plan to volunteer more with county organizations once coaching comes to an end. I really enjoy local government stuff. I had jury duty last year and loved it!
In parting, tell us a few facts our clients might not get to know about you in the time you spend working on projects together.
​TW: I believe man can live on pizza alone. Seriously, pizza is important. I want to come up with a signature pizza—I don't need to sell it, but I can invite people over and they'll feel special because they'll know they're having a legendary pie. I still have a long way to go.
I also studied abroad in college for a summer and became fluent in speaking conversational French. I've gotten rusty, but I still understand it pretty well. ​