Creating engaging B2B videos that work isn't easy.
Your video marketing campaign isn't about creating a single video, posting it all over social media, and hoping to capture your target audience's attention. It's never that simple. And it's never a single video. Video marketing is both an art and a science. After you've perfected the art of the video's creation, then it's time to focus on the science of marketing using B2B videos.
Use Engaging B2B Videos in Your Funnel
The entirety of your firm's marketing efforts can be considered a funnel. Meaning, the act of capturing and keeping your targeted customers brand awareness. Video production experts Vidyard break it down into these phases:
Attract: build brand awareness
Capture: generate interest in your solution
Nurture: provide an education
Convert: nudge a decision
B2B Videos with Clear Value
Engaging does not have to equal outlandish or silly. In fact, your videos can be aesthetically simple and still be stimulating. You want video content that is informative, entertaining, and inspiring. Video production expert SEO Meaning offers this advice:
Use templates to save time and money
Utilize available resources
Integrate interactive content
It's no accident that Ago Cluytens is a respected B2B guru. His keys to success include:
Be a consultant, not a salesperson
Put your buyer first, not your solution
Think long-term in terms of building relationships
Collaborate (be a partner) with your customer
Generate new ideas, insights, and perspectives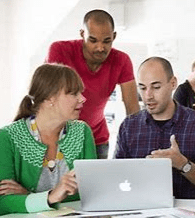 Don't Forget the Human Element
One aspect of B2B videos for marketing that is often overlooked is the simple fact that the decision maker is a customer, but also still a human consumer. It's easy to get caught up in the formulaic delivery of business-to-business transactions, while forgetting that another human being is sitting down to watch your content. More than one person might make the actual purchasing decision, but connecting with a buyer on an individual level builds the relationship. Adding a human element, such as transparency in pricing and solutions, builds trust in that relationship. And trust builds confidence, not only in your business, but in the buyer's decision-making ability.
Contact Autodemo if you would like more information about our video production capabilities. We'll put our expertise to work for you