PlayMaker CRM drives business growth. Sales efforts require visibility in the field of post acute care. Therefore, the ability to target high-value referral sources allow sales efforts to be a success. PlayMaker is a productive CRM that allows field sales representatives to manage their operations. Most noteworthy, there is a mobile app that allows field agents on the go to take the power of PlayMaker with them. This is quite innovative for a rather mobile industry. Information can be inputted on-site, rather than having to wait until returning to a PC. As a result, the CRM monitors what works for driving the growth of your post-acute care business.
PlayMaker CRM Demo Video (1:53)
About PlayMaker's Demo Video
PlayMaker CRM's demo is divided into their three focus points. The soft spoken narration takes viewers through the heady field of post-acute care and simplifies it for the mobile age. The American population is aging dramatically, as such the demand for these services has increased. While the video plays under two minutes, the speedy animation guides informed buyers through their highlighted needs. Productivity remains the focus, as careful narration and smooth animated transitions always informs and never delays what matters most.
Throughout the demo video, the CRM illustrates this marketplace knowledge via segmentation. Most of all, the average demo video about healthcare concerns doesn't factor in the mobile salesperson. Listen to the chipper narration and driving music. Due to these subtle inflections, the demo provides a sense of urgency. Urgency that represents a company and a software on the move to learn from the evolving world of Acute Care.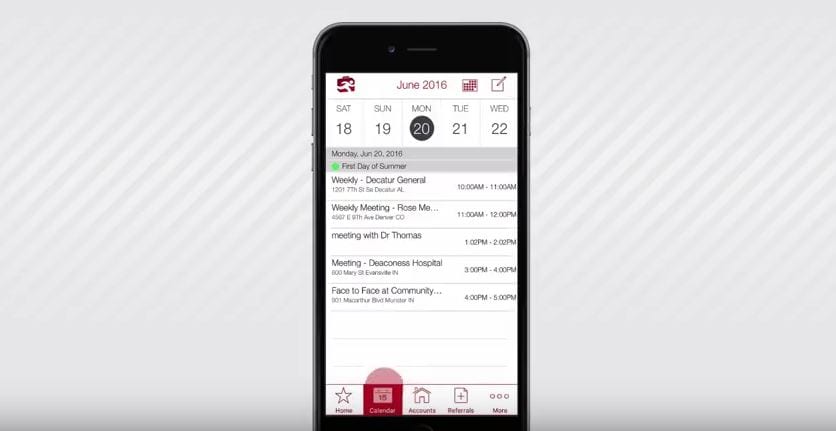 Innovating Acute Care
First of all, acute care is a complicated sales field. PlayMaker CRM breaks downs how to approach the field into three sections. Driving growth, increase productivity and gaining better insights on your sales team across desktop and mobile apps. Home Health, hospice and related services benefit from this by being efficient and effective. Also, PlayMaker believes that you can only be effective & efficient by having knowledge of your marketplace. Whether it is the salesperson visiting offices or the executive observing the grand picture, acute care innovation benefits from understanding the open market.
The demo video understands the nature of acute care, as it compares to mainstream long term care. While acute care can involve traditional hospital stays, the video implies that its nature is to be shorter and concise. Therefore, the thrust of the video follows the need to prospect new business. Especially relevant is the demo video's focus on constant market search. Since most consumers that need acute care don't know where to begin, it's up to tools like PlayMaker to find them.
About PlayMaker CRM
PlayMaker CRM consists of some of the industry's most respected post-acute care professionals. Consequently, we provide these organizations with innovative tools for growth, allowing them to focus on what's really important… providing exceptional patient care.
About Autodemo
Autodemo is the explainer and demo video leader. Our team of scriptwriters, designers and producers custom-build videos that increase awareness, leads and sales. Since 1998, Autodemo videos have helped hundreds of technology, healthcare and financial companies prove the power of their solutions. Clients include Red Hat Software, eBay, Optum, Expedia, CSC, and Marketo. Autodemo's HQ is in a repurposed church in Louisville, Kentucky. Learn more and see samples at www.autodemo.com.
Contact Autodemo today at [email protected] or 502-581-1300.