As the aviation industry continues to change, the technology serving that industry has to change too. Not only that, it has to stay a few steps ahead. With this explainer video for SabreSonic's Customer Centricity platform, we wanted to showcase the innovation and flexibility of an airline IT solution that's as adaptable as the industry it serves.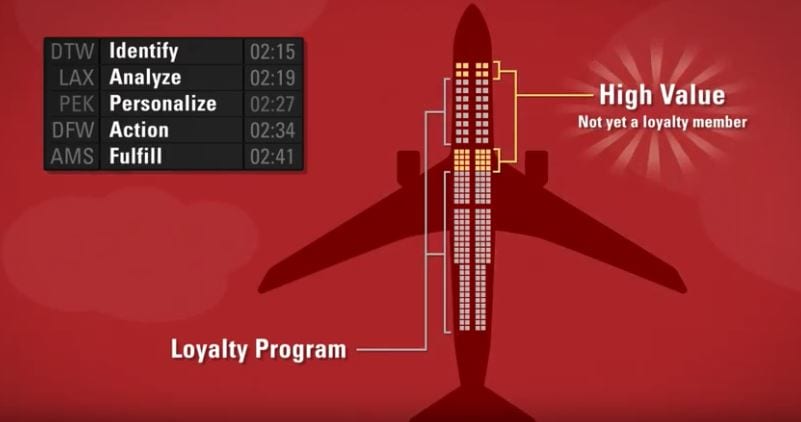 Creating an Airline IT Solution Explainer Video
Today's airlines have A LOT of valuable customer data, which is great news. However, this info often stays in silos, waiting to be analyzed for maximum potential. Enter Sabre, a go-to solution for airlines in search of a responsive and forward-thinking technology environment. Customer Centricity effectively addresses customer needs at every stage of the journey. This is ideal for airlines in need of a platform that facilitates a seamless customer experience while supporting revenue gains⁠.
To clarify the power of Sabre's solution, we started with a real-world scenario that showed both the back-end objective and the consumer-facing experience. After providing a platform overview, we used two fictional airline customers, John and Jane, to drive the narrative. As a result, these customer-journey stories highlighted how Customer Centricity helps airlines deliver the right interactions to the right customers at the right time.
Design that Achieves Take Off
In addition to developing a customer narrative to show Sabre's solution in action, we chose to integrate travel elements in a fun, embellished way. For example, we included bright, colorful visuals and cut-outs on a branded background. Other design aspects, like the plane-seat diagram, were effective, accessible ways to communicate how the solution works.
Utilizing active, dynamic visuals can help maintain attention, and in this case they also showed off the personality of the organization. Moreover, these visuals helped break down a complex explanation in an interesting, easy-to-follow way. Finally, the use of on-screen text complimented this video's design elements to call out the platform's most important features.
To view Sabre's explainer in full 1080p 60fps, you may want to go fullscreen and check your YouTube settings. For more information, check out our post on HD video.
If you want to learn more about our explainer video creation process, take a look at our How-to page.
Sabre is the world's leading airline-technology company. By providing 360-degree customer data insights, dynamic business rules, and real-time actioning, they're delivering the world's most advanced travel platform. 
Autodemo offers strategic, creative explainer and demo videos for clients across industries. Interested in an IT solution explainer video or demo video for your product or service? Get in touch.