As the end of year approaches, you're likely wanting to gain more insights into the effectiveness of your video marketing programs. Google Analytics can help with some important video metrics. By using your free Google Analytics account, you can monitor how your videos get viewed across your site. With a little JavaScript and cookies, you can track when each video is viewed and which videos are the most popular. You can even rank your viewers as sales prospects by assigning event points to the viewing of videos on your site. For detailed instructions on how to leverage Google Analytics code snippets and events on your site, go here.
One important factor in the use of Google Analytics for video metrics depends upon how you implement videos. If you use YouTube's standard embed or iFrame, then video analytics are tracked via your YouTube channel and therefore are not integrated with your other site analytics. However many companies implement a pop-up overlay to ensure that videos are displayed at their best size for viewing quality and clarity. This takes a little extra work, but it's worth it. And with Google Analytics tracking our videos, we don't give anything up in terms of important metrics.
Understanding the Key Video Metrics:
Video Views – If you launch your video into a pop-up overlay, you can capture that event and record the exact time and date of that view in Analytics. You can also record a view for that video. You'll want to monitor this metric when conducting campaigns designed to drive traffic to your site. A spike or decline in views can also alert you to activity trends on your social media channels. In Analytics, go to Behavior, Site Content, All Pages and search for your unique video identifier (we use "YouTube"), and then sort by Pageviews to see your most popular videos over any time frame.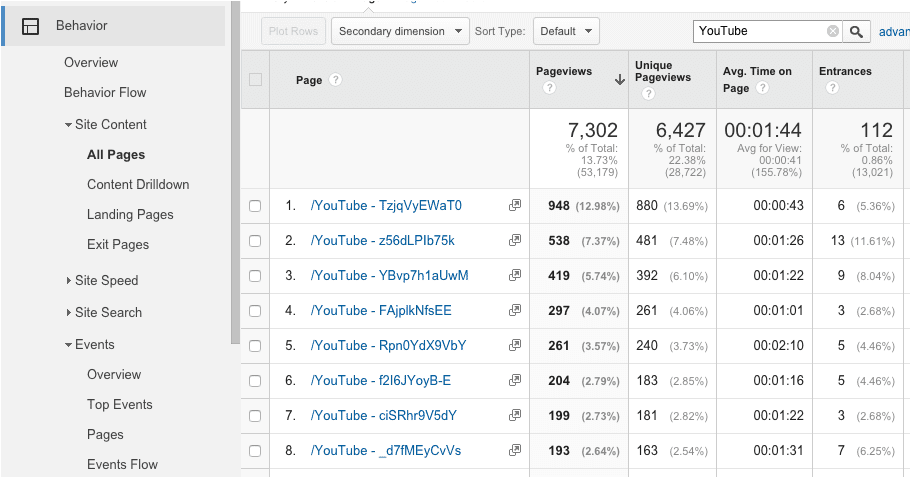 If you embed your video into your page, then you'll have to get all of your analytics from YouTube itself, and the results won't be integrated into your Analytics account. We implement our videos in an overlay, so we can track usage alongside page views.
Most Popular Videos – If you are tracking Video Views, you can get an aggregate report of all the videos across your site, with the most popular first. This is especially helpful when you have a lot of videos throughout your site.
User Habit Tracking  – If you ask your users to sign-up or register on your site, you can create a cookie that tracks their habits, including which pages and videos were viewed. You should assign points to specific user events, making sure to give videos, key pages and registrations a higher-point value. This will help you rank your site visitors as sales prospects. It will also give you insight into your customers' journey through your site and how video impacts their experience. Be sure to notify them about cookies in your privacy policy!
With a little bit of up-front work, you can track key metrics about your videos, prospects and clients across your site. This pays off in the long run by providing you with detailed information about the effectiveness of your video marketing programs.