The marketing landscape continues to evolve in the wake of the coronavirus pandemic. In fact, many experts predict large-scale events like trade shows and conferences will feel the impact of Covid-19 indefinitely. The ripple effects from this global public health crisis remind us of how critical it is to stay dynamic, responsive, and creative in our approaches. We had an opportunity to put these skills to use for ArborMetrix early on in the pandemic. As trade shows and industry events rapidly shifted to virtual formats, the original project changed shape. We repurposed the video assets—originally intended for the trade-show floor—and used them to create an explainer video that would reach a larger audience in the digital space.
Trade Show Marketing Videos Call for Creativity
In the original iteration of our project, we created a short explainer video for ArborMetrix designed specifically to run at a trade show booth.
We planned this piece around best practices for trade show videos. Key elements included the following:
No voiceover
Bright, vivid design
Strong transitions
Clear CTA that could easily be read on screen
The goal was to capture attention and visually tell the story of a product as viewers interacted with the video in a crowded space. We cut the critical element of a voiceover (as we always do for trade-show pieces) and instead relied on vivid colors, eye-catching close-ups, and animated elements for maximum engagement.
Creating a video without a voiceover can sometimes pose unique challenges. Most explainer videos start with a carefully curated voiceover script, which then guides the storyboard we'll use for animation. That script also serves as our blueprint for video length, as well as determining when and where we'll animate visuals on-screen.
For this video, however, we needed to build a compelling narrative without those auditory cues.
How to Build a Narrative for Video Without a Voiceover
To get to the right end product for this two-minute video, we worked with the ArborMetrix team to create a topic list that would act as our guide for our storyboard.
This gave us the framework we needed so it was clear how many seconds we should dedicate to each topic within the video.
Because this video wouldn't include a voiceover, we knew we wanted to create a strong visual element to carry the viewer through the entire experience. This factor would also be useful for the trade show setting, where there are typically plenty of distractions.
Our design team used a rocket as the visual anchor to move the viewer through the video's narrative, as well as for transitions between screens. Though this isn't one of the company's brand elements, the team at ArborMetrix loved this element too. Below, you can see the next steps we took in sketching out the storyboard for this project.
Next, we designed style frames to establish the video's overall look and tone.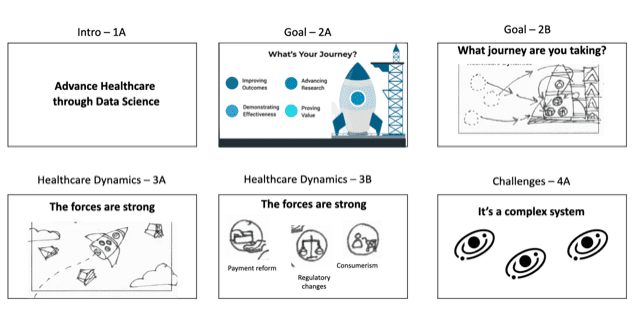 Client Collaboration to Maximize Trade Show Marketing Video Impact
The look of the rocket itself went through a few iterations before we landed on the sleek, modern style. Introducing the idea early in the process gave us plenty of time to incorporate client feedback as well.
In addition, ArborMetrix sent us a full-color 3D render of their trade show booth. This helped guide other design choices, like using a white background for most of the video. This meant the end product would stand out in the middle of the teal-colored booth wall.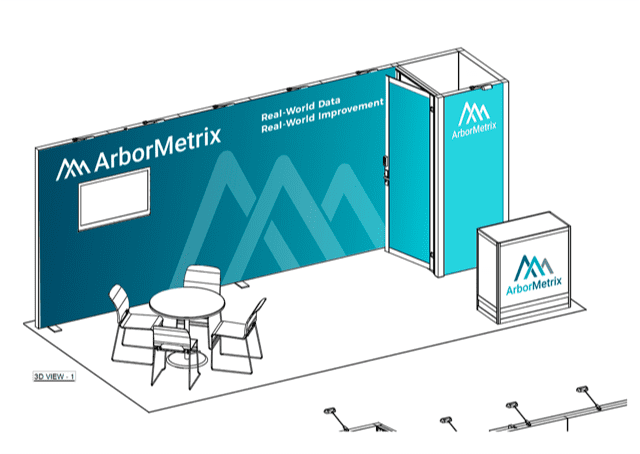 Takeaway #1: While 95% of our videos use voice talent, this one hits all the right messages without it. It's absolutely possible to create a successful video without a voiceover.
A Major Change: Shifting Strategy Away from Trade Show Marketing
This client success story doesn't end there, however. When the trade show was canceled in response to growing concerns about COVID-19, ArborMetrix was left with a really great booth video but no audience to watch it.
Fortunately, by prioritizing elements like transitions and engagement from the outset, the video held up as a valuable, informative piece of content beyond its intended use.
Takeaway #2: Our team can help clients successfully adapt an existing or in-progress project to meet changing marketing needs.
Our creative team was able to leverage the existing trade show marketing assets to create a more traditonal explainer for ArborMetrix. As a result, they may have ended up with a more cost-effective solution overall, too.
Takeaway #3: There's value in being creative and responsive when navigating a shifting marketing landscape. (Haveing an experienced team to help guide those necessary pivots is nice, too.)
We're proud of the ways we worked with our client to address the original challenge of grabbing the viewer's attention on a crowded trade-show floor. In addition, we're glad we were able to quickly pivot with them to deliver a high-quality digital asset that creates value in new ways. Take a look at the final version of the explainer video below.
Have an idea for an upcoming explainer or demo video project? Get in touch.